Well some of the South Carolina Senior World Championship competitors arrived today at Jack Travers for some practice rounds.  This is supposed to be the largest 35+ Worlds to date.  In part from the 150 or so U.S. skiers that are qualified and entered.  SC skiers Mike Robinson, Seth Stisher, Hans Menzel, Jeff Rodgers, and Scott Snape.
What a great experience and a good time at Sunset Lakes.
Jeff Rodgers won the silver medal just behind Andy Mapple.  Jeff was on a new ski for 3 days when he compete in the finals!  Jeff ran an incredible 4 1/2 at 41 and set the bar high.  Andy was just able to get around 5 and tighten the line up to get the full buoy.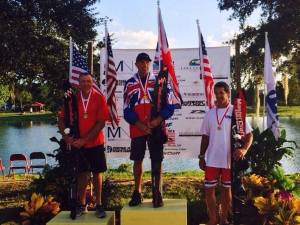 Mike Robinson was a little disappointed with his slalom score because he was running 39 1/2 well until a mistake cost him the handle.  See Mike's run below in the videos.
Seth Stisher made the finals and finished in 8th place.  Unfortunately I never saw Seth while I was there and didn't get to video his runs.  Congrats to Seth for making the finals against some tough competition!
Hans Menzel was skiing for Team Germany.  He was very happy with his Slalom score which was the best he had done in several years.  See Hans' slalom and jump videos below.
Scott Snape finished 15th in jump. after falling on his longest jump of 43.2 meters.  Scott had been battling some inconsistencies, but felt great in practice round and the preliminary round.  "The conditions on the jump lake were just perfect."
Congratulations to all the South Carolina Skiers that made the trip to the 35+ World Championships!
Videos